[ad_1]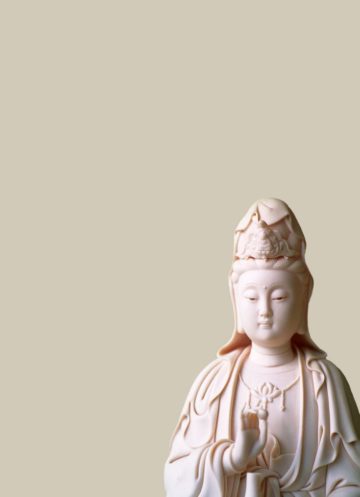 Kuan Yin, bodhisattva of compassion. Photo by Liza Matthews.
Jack Kornfield on beginning this time-honored, heart-opening practice.
In our culture, people find it difficult to direct loving-kindness to themselves. We may feel that we are unworthy, or that it's egotistical, or that we shouldn't be happy when other people are suffering. So rather than start loving-kindness practice with ourselves, which is traditional, I find it more helpful to start with those we most naturally love and care about. One of the beautiful principles of compassion and loving-kindness practices is that we start where it works, where it's easiest. We open our heart in the most natural way, then direct our loving-kindness little by little to the areas where it's more difficult. First, sit comfortably and at ease, with your eyes closed. Sense yourself seated here in this mystery of human life. Take your seat halfway between heaven and Earth, as the Buddha did, then bring a kind attention to yourself. Feel your body seated and your breath breathing naturally. Think of someone you care about and love a lot. Then let natural phrases of good wishes for them come into your mind and heart. Some of the traditional ones are, "May you be safe and protected," "May you be healthy and strong," and "May you be truly happy." Then picture a second person you care about and express the same good wishes and intentions toward them. Next, imagine that these two people whom you love are offering you their loving-kindness. Picture how they look at you with concern and love as they say, "May you too be safe and protected. May you be healthy and strong. May you be truly happy." Take in their good wishes. Now turn them toward yourself. Sometimes people place their hand on their heart or their body as they repeat the phrases: "May I be safe and protected. May I be healthy and strong. May I be truly happy." With the same care let your eyes open, look around the room, and offer your loving-kindness to everyone around you. Feel how great it is to spread the field of loving-kindness. Now think of yourself as a beacon, spreading the light of loving-kindness like a lighthouse around your city, around the country, around the world, even to distant planets. Think, "May all beings far and near, all beings young and old, beings in every direction, be held in great loving-kindness. May they be safe and protected. May they be healthy and strong. May they be truly happy." The Buddha said that the awakened heart of loving-kindness and freedom is our birthright as human beings. "If these things were not possible," he said, "I would not teach them. But because they are possible for you, I offer these teachings of the dharma of awakening."

THANK YOU FOR READING LION'S ROAR. CAN WE ASK FOR YOUR HELP?
At Lion's Roar, our mission is to communicate Buddhist wisdom in today's world. The connections we share with you — our readers — are what drive us to fulfill this mission.
Today, we're asking you to make a further connection with Lion's Roar. Can you help us with a donation today?
As an independent nonprofit committed to sharing Buddhist wisdom in all its diversity and breadth, Lion's Roar depends on the support of readers like you. If you have felt the benefit of Buddhist practice and wisdom in your own life, please support our work so that many others can benefit, too.
Please donate today — your support makes all the difference.
Lion's Roar is a registered charity in the US and Canada. All US & Canadian donations are tax deductible to the full extent allowed by law.
[ad_2]
Source link